How To Know If Your WhatsApp Is Being Monitored? | How Can I Stop & Secure WhatsApp From Monitoring by Someone?
How To Know If Your Whatsapp Is Monitored By Someone: Whatsapp tries its best to keep its users' data private and secure like other applications. Whatsapp uses features such as one login at a time and two-factor authentication. These keep the platform relatively safe. But like any platform connected to the internet, Whatsapp too is susceptible to security vulnerabilities that some people are more than happy to exploit.
You cannot use the same Whatsapp number on two devices at the same instance. However, anyone can spy on your account with the help of Whatsapp Web. Given the nature and popularity of Whatsapp's use, it can be quite a huge problem for most people if hacked.
Thus, in this article, we will share all the ways we know for you to know if your Whatsapp is monitored. We will also share ways you can use to secure and recover your account from hacking.
List of contents in this article-
While you are at it, you can also check out the video attached below to know if your Whatsapp is monitored by someone-
Signs Of A Hacked Mobile Phone
There are multiple signs you can look out for to determine if someone has hacked into your account. The more someone messes with your account, the more signs you will see on your phone. Therefore, if you stay a little alert, you should be able to recognize them. These signs are given below-
Sudden Battery Drain
The first indication your device is being spied on is a sudden battery drain. Apps used to spy on other devices use a significant amount of battery power. This can lead to drastic battery drain. You have to get alert if you notice yourself constantly charging your phone despite not using it that much.
If there is not a battery-related issue, there may be hidden spyware or app on your phone. This happens because such apps use your device location and data to track your current location and device information. Running all this uses your battery at the maximum level and drains it much faster.
Increased Data Usage
One important thing to note is that spyware uses your data to pass on your data and information to the hacker. Since your data is used for this, you will notice it lasts for a much shorter period than its usual rate. Some spyware even auto-downloads third-party apps to extend their services. If you notice any unusual fast mobile data usage, it's time to be alert.
Temperature Hikes
Most of the time heavy and big apps running in the background cause your phone to heat up. Though, if this is not the case and you still notice sudden temperature hikes in your device, you need to be more aware. Some Spyware could be the reason behind this sudden rise in temperature and heating up of your device.
Random Background Noise
One major way to note if your account is hacked or not is by hearing background noise in calls. These spying apps not only hack into your advice but also your calls. Your calls will be recorded whenever you will receive one from someone. During these calls, if you notice any unusual background noise, get alert.
Together, all these signs could be a sure shot reasoning behind how your device is being hacked. Look out for these signs and be alert the moment you notice anything off about the working of your device.
Do Check: Fix Whatsapp Web Not Working
Methods By Which Someone Can Hack Your Whatsapp Chats And Calls
There are multiple ways someone can spy on our Whatsapp chats and calls. Users need to be aware of them so they could take precautions against these methods and protect themselves. These can also help someone know the source of how they got hacked too. These methods are mentioned below-
Whatsapp Web
Whatsapp web is an extended feature of Whatsapp which allows its users to access their accounts from their desktop devices. To operate Whatsapp Web, you have to scan a QR Code from your mobile phone. After this, you can easily access Whatsapp both on your mobile phone and computer. To know more about how to operate Whatsapp on a desktop, click on the link.
Unfortunately, it is also one of the ways how someone can monitor your Whatsapp. Someone can steal your QR code and scan that with WhatsApp web on their computer. If your Whatsapp is currently active on your mobile phone, they can see all your messages and media on their desktop.
Your Device Backup File
It is very important to keep backups and your data safe without giving any third-party access to it. Your backup file can easily be accessed using your File Manager. Once the person has access to your phone, they can find your Backup File and transfer it through Bluetooth or Xender. They can then convert it to plain text and real all your chats.
Third-Party Spyware And Apps
Some third-party apps are available online that can be used to spy on your Whatsapp conversations. If the person gets access to your mobile phone, they can secretly download such an app and hide it. Then the app will spy on your chats and calls and automatically send it all to whoever is spying on you.
Similarly, some browsers are not safe against online threats like Spyware. Some websites promote so much Spyware and virus that can harm your device and steal information easily. Be aware and take precautions against such issues.
Registered SIM Card
Whatsapp requires you to use your SIM card for the first time after installing it. Later, you can remove it and continue to use Whatsapp with the same account if you have Wi-Fi or another internet source. But this can also create a problem.
If your SIM card gets in someone else's hand, they can insert it into their phone and gain access to your Whatsapp account. You will not even be able to figure out who it is since they too can then remove the SIM and still access your Whatsapp account.
Also See: Can't Connect To WhatsApp Web? Resolve it
How To Know If Your Whatsapp Is Monitored Through Whatsapp Web?
Whenever you use Whatsapp Web, you get a notification on your mobile phone. It tells you that your Whatsapp Web is currently active at that moment. If you are not the one using it, you can know that someone else must be operating it in that instance. This should especially be a dead giveaway if you do not use Whatsapp Web.
In case you missed this notification, you can manually check the status of your Whatsapp Web too-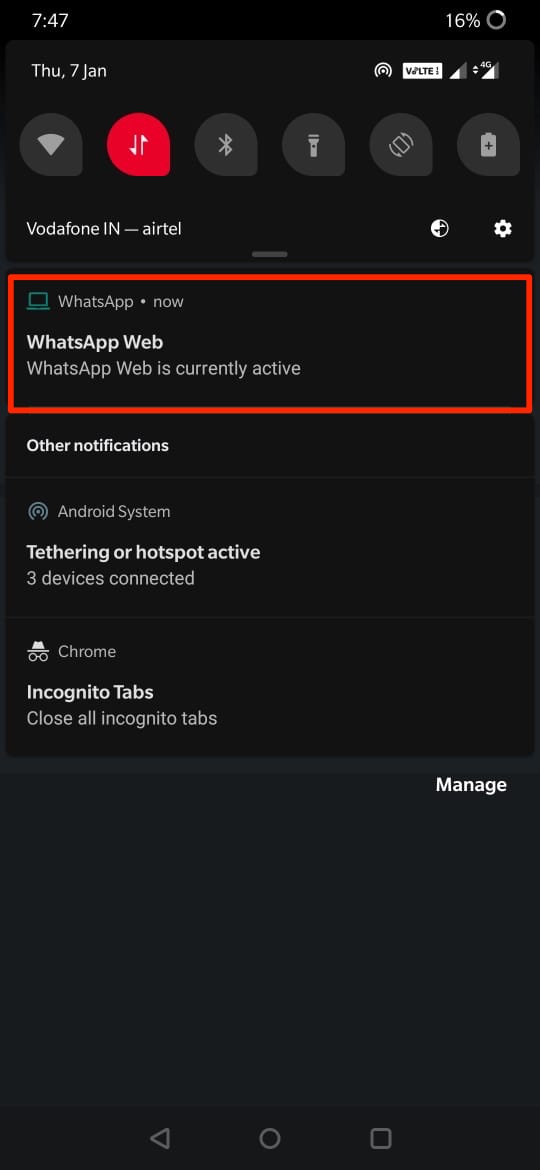 Open Whatsapp on your device.
Click on the three dots or Menu option on the top right-hand side of the app.
Here click on the Linked Devices option. This way you can check for any device or app which has access to your WhatsApp.
Now, if the camera opens, you are safe from this method. But, if one or several other devices with open sessions appear to which you have not given access, then your Whatsapp account is compromised and is being monitored by someone else.
Finally, tap on each active session and tap on 'Log Out' to secure your Whatsapp account against the intruder from this front.
Tips To Secure Your Whatsapp Account Against Monitoring
Follow and keep these tips in mind to secure your mobile phone applications against hackers and spies.
Activate two-step verification
This is the first step you can take to secure your Whatsapp account. Simply go to Settings > Account > Two-step Verification > Enable. By doing this, Whatsapp will send a verification message to the registered number whenever anyone tries to sign in.
Disable Whatsapp Web
Follow the steps mentioned in the above section to secure your app. Also, remember to log out/disable Whatsapp Web when you are done using it.
Lock Applications
Put a pattern or lock on all the applications that can be problematic for you if hacked, like Whatsapp. This will create another safety layer against hackers even if they somehow gain access to your mobile phone.
Lock Your Device
Keep a lock on your device if you feel like you are around someone whom you can't trust or when you have to be around too many people. Most people keep their phones password-protected anyway so it should not be a big deal.
Unknown Wi-Fi Network
Do not connect to any random and unknown Wi-Fi Network as they might steal your data.
Don't Download Unknown Stuff
Beware of shady websites and download material. Downloading from just anywhere and anything can put your device and apps at risk of hacking or virus.
Install Anti-Spyware
You can use safe browsers and install adblockers but mistakes can still take place. To make sure that does not happen, you can also install Anti-Spyware for extra protection. You can easily find an app on Play Store.
Conclusion
To conclude, you need to be more aware and take the necessary steps to secure your mobile phone applications against spying. You never know who might be monitoring you or trying to harm you. Trust your electronics only with the people you trust and keep that list short. Also, stay away from shady websites and do not download anything from random sources. Download stuff only through trusted and safe sources. In the end, if you still facing problems, you can always reach out to Whatsapp Support.
If you have any more doubts about How To Know If Your Whatsapp Is Monitored And How To Secure It, please post them in the comments section. Tell us if this article helped you in any way and if you liked our article, be sure to check out our other works as well!